Just recently, the Ovation network has been airing day-long marathons of a show that first aired in 1982. Based off the 1980 film by the same name, the series chronicles a gentler, better time when sweatshirt material weighed heavily in the fabric of our fashion choices. But that's not the real reason why you should be watching this show about a school of the arts in New York. The real reasons are as follows:
1.
Real Dancers, Real Singers.
Debbie Allen (sister of Phylicia Rashad who is longtime tv wife of Bill Cosby) is the producer of Fame. One look at her body in 1982 will tell you this is a woman who is primarily a dancer. Same goes for all of the central actors on the show. These are not actors who have been taught to dance and sing or who even have some dance and song training in their lives. These are the real thing. It makes a difference.
2.
Actual Narrative.
Take that, Glee fans. There are actual writers who wrote actual storylines for the show Fame. You can go ahead and argue that your little show has narrative, but I will shout you down. Snarky exchanges between superficially developed characters do not equal plot.
3.
The Clothes.
Oh, man, I want all these clothes. There's a rawness to Fame that's reflected in the clothing. Too, there's a dancer's flexibility to all of their street clothes that is necessary to the frequent dancing and feats of acrobatics that happen on the show. But beyond that, there's a playfulness, an ease of fashion here that reflects the 80s as a whole - a time before high stakes marketing of teen clothing. This makes the clothes inherently more sincere and cooler.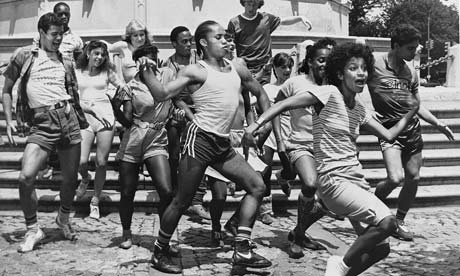 4.
The Eighties.
Yes, I love the eighties. It's my era, but I would love it even if it weren't my era. Here's why. Everything was more real in the eighties. Everything was less slick, less superficial, and less produced. Fame is a perfect example of this. There's a raw edge to the show that naturally comes from a generation that used hairspray as its main accessory. I don't mean that statement casually or comically. Consider an era before cell phones, youtube, Facebook, iPods, and Mac Cosmetics. This is a show about sweat, hairspray, and Maybelline mascara. That's it. And they look damn good, too. The eighties are about figuring out who you are and being who you are without a team of people producing you. I miss that time. Now I have the Internet and Rachel Zoe and Tim Gunn and Stila Cosmetics guiding me through my day. I used to put Vaselines on my lips. I think I looked really fabulous then.
5. Lastly, the following male leads:
Leroy Johnson, Jesse Valesquez, and Christopher Donlon.
Hot.
6.
It Holds Up.
For real, this show holds up even with little Janet Jackson playing the undecided Cleo. Sure, the storylines maintain an innocence that would make Glee viewers laugh out loud, but go ahead and laugh. Embracing teenage sex does not make you hip. And anyhow, Fame addresses teenage sex in a far more believable and less pushy way than Glee. Beyond that, the dancing is still cutting edge and the music, well, the music is amazing. Cassidy, the Flock of Seagulls-esque composer of the show, could still get gigs with his innovative keyboard playing. No, I'm serious.
Overall, the show is solid. Not in a Mad Men or Wire kind of way. But it's worth viewing. Ovation is marketing the show as the original Glee, but it's so much better than that. Glee isn't even in the same universe.